US INVENTOR –
STANDING UP FOR THE RIGHTS OF INNOVATORS, INVENTORS, DREAMERS & BUILDERS
We Need Inventors. America Loves Inventors.
Join Our Voice — Help Us Enact Legislation to Restore the Rights of Inventors.
We want to help restore our once-great patent system, a Constitutional system in which ideas can be protected and thus shared for the benefit of society.
Every week, we see another handful of inventors lose their creative idea, their property rights, their businesses, and their hope because they believed in patent rights as guaranteed by the USPTO; rights that were stolen by large companies using the 'Patent Trial and Appeal Board' (PTAB) as their weapon.
We will not stand by and watch as American Inventors with valid US patents are having those patents invalidated.
With your help we can impact positive change.
2020 Inventor Nominee to the Patent Public Advisory Committee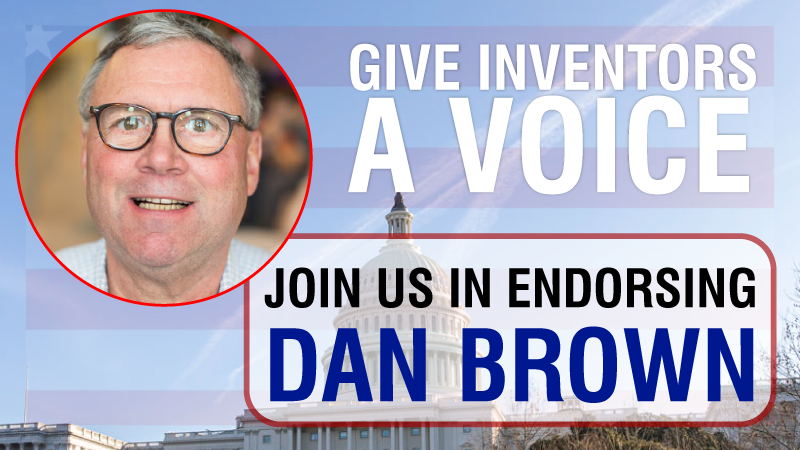 The 2020 nominee is Dan Brown of Evanston, Illinois. Huge thanks to all the excellent candidates who participated and helped to advance our movement to restore the rights of inventors. Please join us in endorsing Dan Brown for the nominee to represent inventors at the Patent Public Advisory Committee.
Introduction to the Inventor Rights Act of 2019
US Inventor is pleased to support the introduction of the bipartisan Inventor Rights Act, H. R. 5478 by Representatives Danny K. Davis (D-IL) and Paul A. Gosar, D.D.S. (R-AZ). The Inventor Rights Act takes critical steps in strengthening US patent rights, bringing justice for inventors, and promoting innovation, the very lifeblood of the American economy.
DONATE TODAY & HELP PROTECT PATENTS