A spirited campaign featuring a number of highly qualified candidates to represent inventors on the Patent Public Advisory Committee has concluded. The 2020 nominee is Dan Brown of Evanston, Illinois. Huge thanks to all the excellent candidates who participated and helped to advance our movement to restore the rights of inventors. Professor Brown will be nominated in due course, and our hope is that the Secretary of Commerce will proceed to appoint him to one of the open seats on the committee.
Please join us in endorsing Dan Brown for the nominee to represent inventors at the Patent Public Advisory Committee.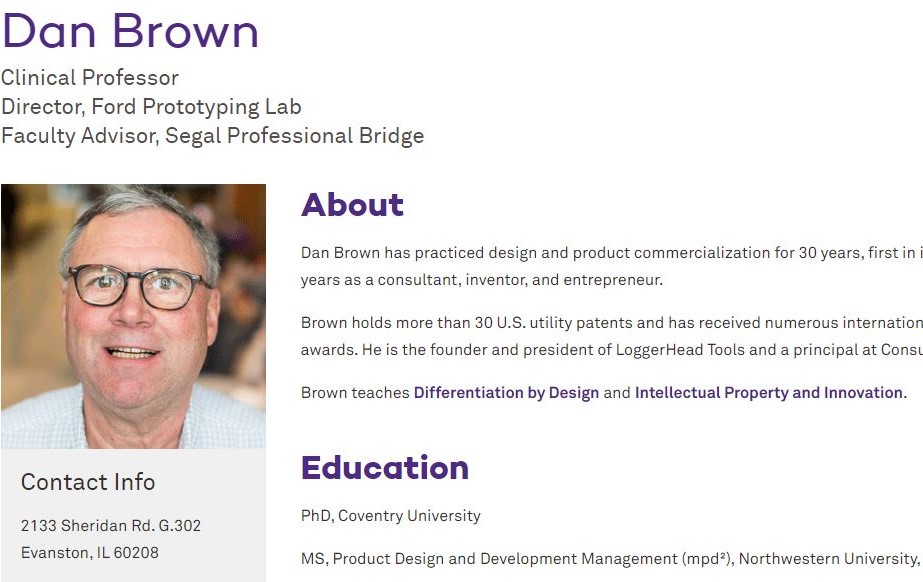 40+ Patents, 11 International Design Awards, Successful Entrepreneur, Academic-Inventor
During my first 13 working years I worked for companies in various design-engineering and management roles, (CV) creating new products. Notably, every Space Shuttle that was launched used an invention of mine. 
In 1991, I launched my own product design and development consultancy, Consul-Tech Concepts. My work has been known for an ability to continually create new products with competitive advantages. During this time, I created many successful products that were patented.
In the early 2000's I refocused on the goal of pioneering a new product for my own startup (CV). The Bionic Wrench is the outcome, a 100% American Made product, creating jobs, and selling approximately 3 million units to date. This was an amazing experience that also painfully allowed me to directly experience the trials and tribulations of the small inventor-entity in our system.
At the same time, I had followed another life goal of pursuing my master's degree as I always thought I would enjoy teaching design. In 2005 I had received my master's degree in Product Design and Development from Northwestern University. Once I began teaching full time, I pursued my PhD in Product Design, I successfully defended my PhD in May 2017.
Most recently I co-designed a product, with Patents pending, that founded a company my son has funded and manages named InstaShield USA, an inexpensive "face shield for the masses", we have sold over 500,000 units since April.
If chosen to be on the PPAC committee, I seek to be an experienced and respected advocate for the often-underrepresented small entity inventor in this extraordinarily complex Intellectual Property process. Through my commercialization experiences, I have actively participated in the judicial system for Intellectual Property protection and enforcement as an Expert Witness in litigation and as a Plaintiff in protecting my own property rights. I have moved beyond the personal practice of design and getting my designs patented, to the teaching of strategic Design Thinking at the Pritzker School of Law at Northwestern.
I recognize the need to support continuous improvement efforts in Patent quality, prosecution, and a robust Patent Office that supports inventor rights, especially for the smaller inventor entities that do not have the financial resources to navigate and compete in the legal system. In throwing my hat into this ring, I believe I would be able to contribute greatly to the PPAC Advisory Committee providing an informed and educated voice, advocating for the small entity inventor-rights owner.
In this PPAC role I would continue my advocacy for a strong patent system to protect these invention rights for individuals, advocating for equal access to opportunity, and equal access to legal protections for all inventors. Given the opportunity, I will be a strong voice for the advocacy of those USPTO policies that support competition, job creation, stronger property rights and efforts to fight Patent piracy practices. For the above stated reasons, and if you agree that I am a highly qualified candidate. I ask for your support in assisting me in representing the voice of the small entity inventor to the PPAC this year. I want to also acknowledge US Inventor for their work.
Thank You for taking the time on this important issue of inventor advocacy – Dan Brown