DR. STEVE LEBOEUF: INVENTOR & CO-FOUNDER OF VALENCELL
Dr. Steve LeBoeuf is an innovator and founder of Valencell, a company known throughout the industry as a leader in the innovative science of wearable biometric devices that deliver enhanced health results.
Steve possesses a Ph.D. in Electrical Engineering from North Carolina State University and a BS degree in Electrical Engineering and Mathematics at Louisiana Tech University.
Since 2006, he has been a pioneer innovator with over 100 granted patents and over 100 patents pending – all in the field or wearable biomedical sensing. A leader among scientists and business professionals in the field of wearable PPG sensing services, he is sought out by the industry to speak around the world.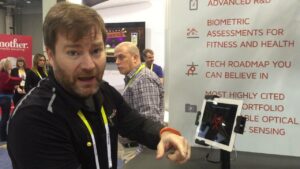 "We started out wanting to help people lead healthier lives," Dr. Steve LeBoeuf said. As the co-founder and President of Valencell, Inc., Steve and his company have acquired substantial backing from investors and have raised substantial backing from investors for the advancement and pursuit of improving health through wearable technologies.
Valencell transformed the science of wearable biometrics through implementing validated patents into the marketplace along with stringent and innovative research and development. "We develop breakthroughs and collaborate with wearables, hearables, and medical device companies around the world to deliver stunning results," Steve said.
The firm's successful products involve technology that can be worn anytime, anyplace, anywhere and by everyone around the world. They offer smartwatches, earbuds, clothing and apparel, wrist devices and armbands.
With over 100 granted patents and more than 100 patents pending, Valencell's technology is designed to capture vital health data, including your heart rate during exercise and in virtually any environmental condition. Valencell began licensing their innovative products to several companies, including Samsung, Suntech Medical, LG, and Bose, to name a few.
This is where and why things started to go wrong.
Prior to diving into this patent destroying tale, it is important to keep in mind that patent examiners at the U.S. Patent and Trademark Office (USPTO) are specialized and highly trained. They may spend a couple of years or a decade, whatever it takes, to ensure that patents being applied for have not been previously known and are not obvious "to a person having ordinary skill in the art to which the claimed invention pertains" (2141 Examination Guidelines 35 U.S.C. 103).
Due to Valencell's robust patent portfolio, folks at Apple began to take notice and assembled a team to study Valencell's patents and portfolio.
Steve and his company noticed that Valencell's public white papers, describing their biosensor technology in detail, were being downloaded under fictitious names. Upon learning, via IP address searches, that these bogus identities belonged to various Apple employees, and foreseeing a major problem emerging, the firm filed a complaint in March 2013 against Apple.
Valencell had even attempted working with Apple to incorporate their patent protected biometric sensors into the Apple Watch, going so far as to provide a prototype of its proprietary watch, including a back-facing heart-rate sensor, upon receiving requests from Apple to license the technology. However, that was not their plan.
In a bold move, Apple moved forward in developing the Apple Watch by blatantly incorporating their patented technology and ignoring Valencell's warnings. They freely infringed upon Valencell's patents on biometric sensors. Valencell sued Apple for patent infringement under four of their patents. Under the same patents, Valencell filed a lawsuit against Fitbit.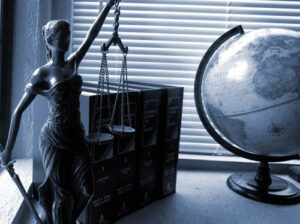 That is the point where it got ugly.
Apple fired a hailstorm of six Inter partes reviews (IPRs), five of them with Fitbit, in their attempt to invalidate (revoke) Valencell's patents. Each IPR viciously attacked Valencell's patents. The PTAB implemented all the IPRs against Valencell on Apple's behalf.
Not waiting on the six petitions to run their course, Apple hit Valencell forcibly by filing a barrage of seven additional IPRs, each challenging other patents in the Valencell patent portfolio.
The PTAB partially invalidated the "Methods" patent, concluding that 13 of its claims were unpatentable because they were based on prior art, yet trained patent examiners found no such evidence before granting the Valencell patents years earlier.
Aside from the vast amount spent on litigation with Apple, it cost Valencell even more because the firm was forced to freeze actions with their patent portfolio until all of the IPRs had been cleared and resolved by the PTAB.
In the article, Plight of the Patentee, author Dave Wanetick wrote, "The PTAB has proven to be a body that destroys not only patents but also the enterprises that hold them. Inventive companies that initiate patent infringement claims against large companies may not have a chance because large companies disproportionately retaliate. The alleged infringers may lob volley after volley of IPR petitions against the asserted patents. They may also implement multiple attacks against all the patents owned by those that accuse them of infringing. Apple applied this tactic against Valencell."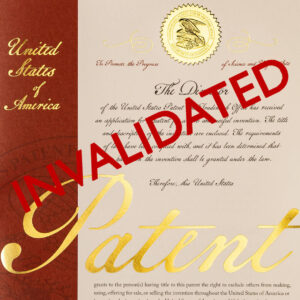 The Apple debacle was only the beginning and certainly not the end of it all.
The dust had not yet settled when Valencell was forced to pursue legal action against another company, Bragi, for blatantly infringing four of their patents, two of which were different from those attacked by Apple's IPRs. Even though Valencell pointed out that these patents were not frozen and not part of the Apple IPRs, the district court forced Valencell to also put these patents on hold until all of the Apple IPRs were resolved.
Valencell, an incredibly innovative company, paid a dear price and learned a severe lesson during their IPR battles with Apple, a huge conglomerate with nearly unlimited resources.
Even though Apple didn't invalidate all of Valencell's claims, the smaller firm took a massive hit and simply could not afford the extremely high cost of lengthy litigation. Apple had much deeper pockets and teams of people to help their cause.
What became abundantly clear throughout the Valencell/Apple debacle is the massive problem that exists with the PTAB and IPRs, which has tarnished the patent system almost beyond repair.
In his article, The Tallying Repetitive Inter Partes Review Challenges, Steven Carlson wrote, "How many bites at the apple does the Patent Trial and Appeal Board allow? That is, are parties limited to a single invalidity challenge to a patent claim in inter partes review, or are parties able to file serial challenges against a claim? While the statutes governing this important question may be open to interpretation on this fundamental question, the PTAB has adopted a decidedly permissive approach."
Carlson pointed out, "The PTO director has broad authority to restrict multiple challenges against a patent." Some of the restrictions include, "providing for stay, transfer, consolidation, or termination of any such matter or proceeding."
Unfortunately, this has not really been the case.
Infringers continue to file multiple IPRs against smaller companies that have developed truly disruptive technology, finding it cheaper, in the long run, to battle legally than entering into a licensing agreement and paying the inventor royalties.
To wrap it up, it should be pointed out that in the 1996 documentary, Triumph of the Nerds: The Rise of Accidental Empires, it was Steve Jobs who said, "We have always been shameless about stealing great ideas." Of course, Jobs is also the one who bragged at the announcement of the iPhone at Macworld 2006, "And, boy have we patented it."