PLEASE SUPPORT OUR EFFORTS IN THE FIGHT FOR INVENTOR RIGHTS.
A $100 donation will receive a US Inventor Mug.
A $250 donation will receive a mug and an exclusive US Inventor
T-Shirt.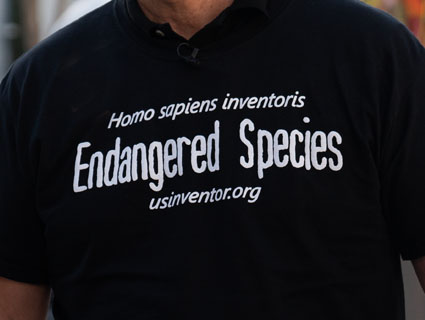 After your donation is made, please email randy@usinventor.org
with your requested size.
(S-M-L-XL-2XL)
Donate by Mail:
US Inventor
PO Box 2273
Clearwater, FL 33757
­
THANK YOU.
YOUR DONATION WILL HELP US CONTINUE TO PUSH FOR LEGISLATION THAT WILL HELP INVENTORS PROTECT THEIR RIGHTS.
US Inventor is a 501(c)(4) non-profit. Contributions are not tax deductible.* We rely on the generosity of donors and volunteers to help us educate, support and inspire inventors, and to advocate on behalf of inventors with lawmakers and others to pass legislation protecting inventor rights and strengthening the patent system. Your generosity is very much needed and very much appreciated.
* Contributions may be deductible as trade or business expenses, if ordinary and necessary in the conduct of the taxpayer's business. Check with your tax professional.