LEROY HAGENBUCH:

INVENTOR & CO-FOUNDER PHILLIPI-HAGENBUCH
LeRoy Hagenbuch is a prolific inventor and the CEO at Phillipi-Hagenbuch, a firm which he co-founded 51 years ago with L.B. Philippi, whom he met at college.
Today
Phillipi-Hagenbuch create and sell innovative products for trucking and mining and LeRoy has become a legend in his industry, while the Phil mark has become a widespread industry staple. He holds 90 patents, including technologies such as truck bodies, tailgates and onboard vehicle monitoring. His onboard monitoring technology has been successfully licensed to companies like Caterpillar and Komatsu. LeRoy also attempted to license his technology to Toyota. However, the large multinational firm decided not to pay legitimate royalties to the inventor and decided to infringe. Then, they used the flawed Patent Trial and Appeal Board (PTAB) to invalidate (revoke) his patent.
or "LeRoy the experimenter," as his mother would call him, has been living the Inventor's Dream since 1969. He grew up as the oldest of five children on his family's farm in Illinois. Growing up surrounded by agricultural equipment, LeRoy noticed issues and areas where improvements could be made in order to make farming easier. These sources of inspiration led him to the University of Illinois where he studied agricultural engineering.
During his collegiate studies, LeRoy met his partner, L.B. Philippi. Together, in LeRoy's basement, the two would form a company that would put all of the young inventor's ideas on paper, starting an era of beginnings for trucking and mining all over the country. The company he co-founded as serves as CEO would be known as Philippi-Hagenbuch, Inc.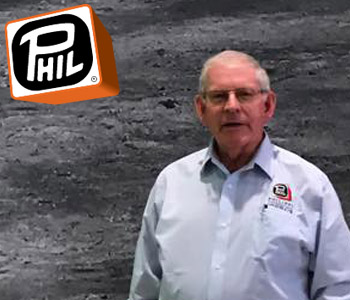 LeRoy holds ninety patents
including technologies such as truck bodies, tailgates, and onboard vehicle monitoring. For over fifty years he has used his inquisitive and experimental mind to solve problems and create solutions for customers and to expand his trucking and mining business. He has led Philippi-Hagenbuch to become a world leader in engineering and manufacturing. Since 1969, the company has created and developed enhancements such as water tanks, lowboy trailers, rear eject bodies and trailers, bottom dumb trailers, auto-gate trailers, sanding and spreading bodies, and more. In 2013, LeRoy was inducted into the Pit & Quarry Hall of Fame.
this success has not come without challenges.
Recently, in 2015, LeRoy fell victim to the Patent Trial and Appeal Board (PTAB), aka the "Patent Death Squad," comprised of Administrative Patent Judges (APJs), who are not real judges, nor are they experts at examining inventions and patents. However, the panel can ultimately decide the fate of patents and have invalidated 84% of the 3,000+ patents they have reviewed.
In September 2011, LeRoy successfully patented the "Apparatus for Tracking and Recording Vital Signs and Task-Related Information of a Vehicle to Identify Operating Patterns"– identified as U.S. Patent No. 8,014,917 B2 ("the '917 Patent"). Subsequent to this patent, LeRoy was granted a related patent on September 10th, 2013, U.S. Patent No. 8,532,867 ("the '867 patent"), a continuation of the '917 patent. Both patents are designed and directed as methods and apparatus for recording vehicular data during a collision through an event data recorder (EDR) and automatic collision notification (ACN).
This system, which contains onboarding vehicle monitoring, was successfully licensed to companies such as Caterpillar and Komatsu, but after attempting to license this technology to Toyota Motor Corporation, LeRoy's Inventor's Dream was disrupted.
With no other choice available, he sued Toyota for infringing on these patents, to which Toyota responded by ultimately getting his patents invalidated (revoked) through the PTAB.
Toyota argued for multiple claims of obviousness based on past inventions from 1989, 1990, and 1991. However, what the PTAB APJs failed to understand, was that the technicalities of LeRoy's patents differed substantially from those past inventions. LeRoy's system detects all crashes, including before the vehicle completely stops. That is quite different from the previous patents that only detect an accident if the vehicle is completely stopped.
LeRoy's detection of collision is based on a sudden change in velocity that is monitored throughout the use of the equipment, not just after the equipment is used. His patent also includes a more efficient transfer of data with lower costs and lower failure risk compared to past patents. The PTAB willfully ignored all technicalities of LeRoy's patents, failing to even listen to the attorney that wrote the patents and LeRoy, himself, during the court battles.
Instead, the PTAB APJs ignorantly assumed the obviousness of LeRoy's idea applying the thought process that because technology has improved since the 1980s and 90s, it would be merely impossible for these past inventors or others to not think of LeRoy's idea, as well.
In other words, "Somebody would have invented it anyway."
If the PTAB's interpretation
of obviousness were to stand, then every single invention that has been discovered and created, or is to be discovered and created, would not be patentable.
The PTAB blatantly overlooked the technicalities of the prior art and of LeRoy's inventions. In addition, the PTAB failed to see or recognize that this technology has been licensed by notable companies and widely validated in the market before Toyota's use of it in their vehicles.
In other words, the industry had already accepted the invention as the valid and credible property of LeRoy Hagenbuch and licensed its use.
is the PTAB stripping LeRoy of his property rights, not only are they dramatically changing the law in their analysis of obviousness, not only are they overruling the highly trained and experienced patent office examiners who originally issued the patents, but they are overruling and nullifying the leaders and buyers in the entire industry – the real experts in the field – who for years, have already licensed the technology.
Fortunately, LeRoy hasn't let this drastic fault in our existing patent system stop him from inventing. His will and determination to make life easier for his customers still drives his innovation and his business.
For fifty-one years LeRoy has been inventing, and he is not stopping now.