MICHAEL KINTNER:

INVENTOR & OWNER OF 360Heros
Michael Kintner is the owner and inventor of 360Heros (now 360RIZE), an innovative 360 degree camera mount and related photographic and video system. Mike was born in 1964 and raised in Scio, New York.
He attended Alfred State University
in Alfred, New York, and graduated with an AAS in Alfred's Experimental Computing Graphics Program as a second-year graduate. After graduation, he moved to Portland, Maine, and began studying as a CAD/CAM Research/Design Engineer. He worked at Boston Digital Corp as a Mechanical Engineer and became a certified CNC Instructor for 3, 4, and 5 axis machining centers. Mike has traveled extensively, installing CNC machines and displaying his wares at trade shows around the country.
growing up in rural, upstate New York, Mike Kintner never imagined that his love for inventing and cameras would one day make him a Guinness Book of World Records holder.
Although he'd always had a fascination with making things, it wasn't until a high school project that his knack for inventing was recognized. Members of his social studies class were tasked with making a better mousetrap. Mike configured a trap that didn't kill the mouse. He won.
As he entered college, his love of computers and electronics took center stage. He built his own TRS 80 computer from scratch and even wrote his own software. However, cameras soon became his passion.
Before anyone had ever thought of the drone
Mike was among the first to use helium blimps with a camera attached to shoot aerial photography.
But an aerial photo request from law enforcement agencies led him to develop a 360-degree camera and defined his inventing career.  Mike created 360Heros, a device that held six GoPro cameras together and created a panoramic view.
Upon receiving his patent, Mike said, "It's been our goal since day one to create technology that empowers content creators to leverage existing camera technology to tell stories in a more immersive format."
It was this camera device that ended up on the top of Mount Everest, which earned him his spot on the Guinness Book of World Records. A first-of-its-kind, 360-degree concert with musician Beck followed and his camera apparatus was used to shoot video of sharks during Shark Week.
Mike's invention
caught the attention of GoPro. At first, GoPro seemed to enjoy the media attention and success Mike was having with 360Heros. That all changed abruptly when, shortly thereafter, GoPro sued him for trademark infringement. They later bought a company with whom Mike had a Non-Disclosure Agreement and gained access to all of his technology and patents.
GoPro then challenged Mike's patents and dragged him through the Patent Trial and Appeal Board process. When GoPro was unsuccessful there, they appealed. The infringers didn't even bother to show up at the appeal. It became clear that their plan was simply to drain Mike of his resources in an attempt to force him into bankruptcy.
GoPro has continued litigation with Mike for more than six years now, destroying the simple inventor's business and his desire to ever create another product.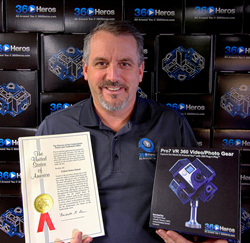 In an effort to salvage his business and livelihood
Mike recently joined the lawsuit brought by US Inventor, which is suing the USPTO in hopes of leveling the playing field for small inventors who don't have the resources to keep up with the multi-billion companies that are seeking to steal or invalidate their patents.
If this is unsuccessful, Mike will have no choice but to file bankruptcy and go back into construction, because, like many others, providing for his family is, and has always been, Mike's No. 1 priority.