IN THE TRENCHES WITH INVENTORS
In each episode you'll hear from actual Inventors as they tell us 'How & Why Their Patents Were Invalidated.' These amazing Inventors share their stories first hand. You'll be horrified, saddened and inspired. Watch episodes below on this page. Click here if you want to register for the next Webcast; watch and interact with the panelists and experts through 'chat' during the live episode.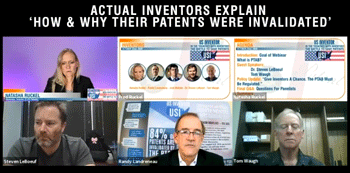 We also address some PTAB Myths and Facts Learn more here: PTAB MYTHS AND FACTS
PTAB (Patent Trial and Appeal Board) – What is it?
Learn more about this and many other issues inventors face on a daily basis.
Episode 8 – Defending Patents – Jan 21, 2021
In this episode of In The Trenches With Inventors we speak with Jeff Parker who won an Emmy for his technology, Juliette Fassett whose product sold over $500,000 in 13 minutes when it appeared on QVC and David Petite, an incredible inventor who has over 100 patents.
Jeff Parker is the first guest, he is a co-founder of several companies, all of which invested millions in R&D and protected those investments by securing patents. His first company developed semiconductor chips and controls for heating and air conditioning. Remember the thermostat years ago that had drop of mercury in a tube? Jeff's company replaced that with digital control. Jeff's second company developed television production cameras and equipment that were automated.
Jeff is an inventor on dozens of patents for those companies. He had tremendous success and even won an Emmy for his technology that allowed live TV news broadcasts with much smaller crews. Jeff formed ParkerVision to solve a major problem. The basic technology of wireless radio frequency signal generation and reception, called RF transceivers, required significant numbers of components, which made them large, power hungry, and challenging to achieve good performance.
The fundamental architecture of RF transceivers was largely the same as that of Marconi, developed 100 years earlier! RF transceivers are at the heart of all wireless products we use everyday – such as Smartphones, the many WiFi and Bluetooth products, GPS location systems, and any other wireless devices. Jeff's group at ParkerVision, with over $100 of million of funding for R&D, and numerous highly paid engineers, proceeded to re-invent the fundamental architecture for wireless RF transceivers. A representative of the world's largest wireless chip company called Jeff's RF transceivers "the holy grail of RF."
Even though ParkerVision had invested a huge amount of money to create a portfolio of patents for protection, Jeff soon ran into the efforts of vested interests to use our broken patent system against him.
Our second guest is Juliette Fassett, The Inventor of Flippy. Juliette didn't set out to become an inventor. But like a lot of successful inventors, she observed a problem and came up with a great solution. The various products for holding a tablet computer while using it in bed or while lounging all had drawbacks. The solution she came up with was Flippy.
On limited funds, she got a patent and was selling the product through Amazon and catalogs. She wasn't setting the world on fire, but she was doing OK. Then she got her product on QVC and sold $500,000 worth of product in 13 minutes! Seeing her success, a company that sells on TV jumped on the product and started selling it without her consent. Juliette talks about how difficult it is to defend Flippy from infringers.
The final distinguished guest is David Petite, NAIPEC (Native American Intellectual Property Enterprise Council). David Petite is the Founder of SIPCO, the Smart IP Company, and NAIPEC. David has over 100 patents relating to wireless technology. A number of his patents are from the early 1990's and cover fundamental wireless network protocols. His technologies have been licensed to hundreds of companies and have produced very significant royalties.
David has experienced how our patent system worked before and after the passage of the America Invents Act, and his patents have received numerous PTAB attacks. David is also the Founder and President of the NAIPEC, the Native American Intellectual Property Enterprise Council, a non-profit group, which supports invention and innovation for Native American inventors and in the Native American community.
David compares how innovation differs to the times prior to the America Invents Act, explaining how it is more difficult today for inventors than ever before. He also provides some helpful advice for would-be inventors.
Episode 7 – Patents on Trial – Nov 19, 2020
November 19, 2020 – In this episode of In The Trenches we feature inventors Larry Golden and LeRoy Hagenbuch. While their experiences vary differently, they both faced the wrath of the Patent Trial & Appeal Board.
Larry Golden, CEO of ATPG Technology, LLC has ten patents relating to systems that detect and prevent terrorism. Larry shared his information with the government, only to discover that he was being infringed upon. He sued, then consequently faced a brutal PTAB attack by Homeland Security. Larry not only talks about the hardships that he has endured but also where he is today and the hurdles that he still has ahead of him. To learn even more about Larry's plight and to support him, please visit ATPG Technology.
LeRoy Hagenbuch, is CEO at Phillipi-Hagenbuch he co-founded the company 51 years ago. When the company started, their HQ was located in LeRoy's basement. LeRoy has become a legend in his industry. Today Phillipi-Hagenbuch create and sell innovative products for trucking and mining. LeRoy has 90 patents, including technologies such as truck bodies, tailgates and onboard vehicle monitoring. His onboard monitoring technology has been successfully licensed to companies like Caterpillar and Komatsu. LeRoy also attempted to license his technology to Toyota, however, they decided to use the PTAB to invalidate his patent. Learn from LeRoy's cautionary tale. Visit his website.
During this episode Josh Malone, inventor and full-time volunteer at US Inventor, talks about the difficulties he faced bringing his highly successful invention 'Bunch O Balloons' to market. He also touches upon the emotional challenges he faced thereafter in defending his patents.
We wrap the episode with a brief discussion highlighting the differences between the PTAB and a regular court. We learn some uncomfortable truths. You'll be shocked to discover the facts.
Episode 6  – Broken Patents System – Nov 5, 2020
November 5, 2020 – In this episode of In The Trenches With Inventors we hear the stories of Gene Luoma who invented Zip It, an easy effective way to unclog drains and William O'Keeffe, who invented a revolutionary USA-made fire-rated glass. These inventors who have faced the wrath of large corporations that have used our broken patent system against them.
Gene Luoma has worked on many inventions over the years and has obtained a dozen patents. One particular invention of his went big-time. If any of your family members have long hair, then you'll know about the problems associate with clogged drains. Gene came up with an easier, more effective way to unclog drains, which he named Zip-it. Zip-it was licensed to a company with thousands of stores, and Gene was receiving significant royalties. In the licensing agreement, the licensee even agreed to help fight any companies who dared to infringe. Everything looked good. Then the top salesman for the licensee left the company and went to a competitor that immediately knocked off Gene's invention. Gene tried to use his patent rights to stop the infringer, but over the years it became worse, costing him and his family both financially and emotionally.
William O'Keeffe heads an architectural glazing company. He found that fire safety glass would stand up to fire but not normal impacts, so it was dangerous to consumers. Large companies in this industry said the problem couldn't be solved, and after Bill solved the problem, those companies then copied his patented invention. William has been leading what has become an impassioned fight against the use of wired glass in this country for more than 20 years, making an impact by fighting to keep wired glass from being used in unsafe applications such as schools and gymnasiums. Hear his story and squirm when he talks about the cost of defending his patent.
We also learn about the US Inventor's goal to educate inventors about how they can make a difference today. US Inventor also introduces a comment wizard – Myths & Facts – that will help inventors, to submit their comments to the Director Iancu (USPTO). Inventors will be able to put forth their comments about ways in which the PTAB – Patent Trial & Appeal Board may ensure a fair and balanced process, in order to protect their rights.
Episode 5  – Battling Infringers – Oct 29, 2020
October 29, 2020 – In this episode of In The Trenches With Inventors we hear from three successful inventors, who have been battling against infringers, to try and keep their patents.
The first panelist, David Furry of Leak Detection, Inc., invented and patented a way to see otherwise invisible toxic gas emissions. His invention actually lowered the level of ethylene in the air in Houston by 60%! A large corporation appeared to be interested in licensing the technology. They learned everything they could, took the technology, and used the PTAB (Patent Trial and Appeals Board) against David.
Patrick Buckley of DodoCase invented and patented the first low-cost smart phone virtual reality viewer that worked with all smart phones. This is the folding, cardboard device you've seen. In creating this technology, he solved problems that nobody else could. The company he licensed to decided to use the PTAB against Patrick. Patrick faced numerous challenges in various courts, including PTAB, and he discusses here the huge obstacles that he faced.
The final panelist is Ron Williams of Cablz who invented an eye-wear retainer that doesn't snag, is more adjustable and more secure than the competition. It's also very cool. He came up with it after his eye-wear retainer snagged while he was driving and he almost hit somebody. Sales took off, but large corporations copied it and used the PTAB against Ron.
This webcast also touches on several US Inventor Milestones that have been attained and why US Inventor works so hard to protect inventor rights.
Episode 4  – Battling Corporations – Oct 22, 2020
October 22, 2020 – Tune into this week's educational and entertaining episode. Our guest panelists include Dr. Steven LeBoeuf, (bio-metric sensors), and Tom Waugh (utility poles that withstand hurricanes).
We speak to Dr. Steven LeBoeuf of Valencell, the inventor who helped create the market for wearable bio-metric sensors. His workable solutions are accurate for broad use. Prior to his work, wearable sensors were limited to hospitals and other situations where the user was fairly immobile. He solved the problem, got several patents on it, and built a company that licenses the technology for health, medical and consumer uses. He ended up in a fight with Apple and others. Steven explains the difficulties he faced and still faces today.
We also speak with Tom Waugh of Seamless Pole, Inc.
Tom Waugh figured out how to make large metal power poles in 60 seconds apiece, a very small fraction of what they were taking previously. Poles created with his method were also more aesthetic and stronger. He patented his technology and entered into talks with a large utility company that expressed interest in licensing. Rather than license, they decided to just take the technology and use the PTAB against Tom. View the complaint: Seamless-Pole-complaint
These real-world stories highlight the problems with the current PTAB system in protecting patent rights. Out guest panelists also help dispel some of the myths about PTAB, e.g. Myth – PTAB corrects mistakenly issued patents.
We also cover a range of topics in our Q&A session, such as: "Should Inventors hold off on introducing any product because of how easy it would be to copy. What would be a good strategy?"
Episode 3 – Infringers Using PTAB – Oct 15, 2020
Three inventors – Michael Kintner, Stu Douglass and Paul Hayes – share their stories about how they faced off with large corporations intent on taking their patented inventions. We discuss how the Patent Trial and Appeals Board (PTAB) is used against inventors by large infringers to drive up the cost of litigation. These inventors will describe what happened there and why we need to restore the rights of inventors.
Michael Kintner
Inventor @360 Rize
Mike invented the first multi-camera system to re purpose existing cameras to create high definition, 360 degree video, with super-high resolutions of 24,000 by 12,000 pixels (several times the typical HD). Mike's invention actually got into the Guinness Book of World Records for the first 360 degree video from the top of Mount Everest! Because the invention could film one mile deep in the ocean, the navy used it to film things like underwater transfers between submarines. Also, Shark Week used Mike's invention to get some great footage. Mike was producing and licensing his invention when GoPro started infringing.
Stu Douglass
Inventor @Roller Clutch Tools
Stu invented a revolutionary new tool that replaces the traditional ratchet wrench. The roller clutch doesn't use gears, it uses rollers, which are stronger, more efficient and safer. If you've ever used a ratchet in a tight space, you know the frustration of not having enough room for the gears to engage. The roller clutch solves this problem. Stu licensed the roller clutch to Snap On Tools, and sales were rising. Lowes became interested and approached Stu. Find out what happened in this episode.
Paul Hayes
Inventor @Electric Power Metering System
Paul invented a way for electric power meters to be gateway routers for the internet using only the regular power transmission lines. In 2002, this was a big step in the coming internet of things. Because of limited funds and time, Paul chose to license the invention, and soon found that he was being infringed by a large corporation. Paul tried to stop the infringer, and, like so many other inventors, ended up with the infringer using PTAB against him.
These inventors will explain the problems by the PTAB, how and why they lost their patent rights and address myths such as:
MYTH: PTAB is used by small businesses to defend against patent trolls.
MYTH: PTAB is used to review only bad patents.
MYTH: PTAB is cheaper than regular court.
Episode 2 – Fighting For Patent Rights – Oct 8, 2020
You will hear the stories of Gene Dolgoff, Trae Smith and Mark Kilbourne; inventors with valuable patented inventions who all faced the PTAB resulting in similar consequences. Learn, first-hand what they went through, the huge losses, both financially and physically.  We discuss how the Patent Trial and Appeal Board (PTAB) is used against inventors by large infringers.

Gene Dolgoff – a prolific inventor with 65 patents. Gene invented and patented the LCD projector. This exceedingly valuable technology was integral in enabling movie theaters to go from film to digital. Gene will tell us what happened when his infringer used the PTAB against him.
Trae Smith – inventor of the patented Firebug Shoe line, the first real innovation in lighted shoes in decades. Trae put out a press release on a Monday and had a half-million pair order on a Wednesday. Find out what Trae experienced at the PTAB when a large corporation chose to take his invention.
Mark Kilbourne – Mark could not make the live webinar due to unforeseen issues. Randy Landreneau speaks about what Mark has been through. Mark is inventor of Remotizer, a device that converts any deadbolt that's already on your door into remote control operation. His sales were rising rapidly, and then he went to the Consumer Electronics Show where folks from Apple saw the invention. These are inventors with actual products. They had faith in our patent system. After you hear their stories, you will have a greater understanding of what we are up against and why we must cause the changes that restore the right of an inventor to stop the theft of his or her patented invention.
Episode 1 – Series Premiere – Sept 28, 2020
In US Inventor's first episode of In The Trenches With Inventors you'll hear from actual inventors about 'The How & Why Their Patents Were Invalidated." In our premiere we talk with inventors Glen Sanders, Ray Perkins and Tom Pierson. There are so many inventors who have faced injustice and corruption at the hands of deep-pocketed corporations that choose to use PTAB as a tool to help steal inventions. US Inventor decided to provide a forum in which inventors can share their stories, hence In The Trenches With Inventors was created.

Glenn Sanders – inventor and founder of Zaxcom, Inc. Despite winning an Emmy award for his ground-breaking wireless video recording technology, Glenn's patents were invalidated by the chief judge of the PTAB.
Ray Perkins – inventor and founder of Eco World Group LLC. Ray came up with a slow-release compound for urea-based fertilizers that reduces water pollution by 30%, helping prevent red tide and algae blooms. His patents were attacked first by Koch Industries in regular court, then by Solvay at the PTAB.
Tom Pierson – inventor and founder of TAS Energy Inc. Tom's turbine inlet chilling patent was stolen by a competitor and his patents were invalidated at the PTAB. Tom is featured in the documentary INVALIDATED: The Shredding of the U.S. Patent System
These inventors will explain their problems with the PTAB, how and why they lost their patent rights, and address issues such as:
-The PTAB has invalidated 84% of the patents they have reviewed (2,421 out of 2,872).
-There is no right to a jury trial at the PTAB.
-Compared to a regular court, the PTAB limits evidence, testimony, due process, and procedural safeguards.
-Compared to a regular court, the PTAB has a lower burden of proof for invalidation (preponderance rather than clear and convincing). -Most PTAB administrative patent judges have no technical experience and minimal legal experience.
-PTAB administrative judges often overrule examiners and federal judges who previously held a patent to be valid.
-The PTAB benefits mostly large corporations – top patent challengers include Apple (650 petitions), Samsung (540 petitions), Google (337 petitions), and Microsoft (224 petitions).
-It costs an average of $450,000 to defend a patent at the PTAB.
-PTAB typically adds 2 to 5 years to the duration of a lawsuit.