MARK KILBOURNE:

CO-INVENTOR OF REMOTIZER
The Remotizer was invented and patented by Mark Kilbourne, president of Mr. Butler LLC, Houston Texas. Mark developed it with his father, Kent Kilbourne, who has had 38 years experience in the door lock industry.
The device
converts any deadbolt already on a door into a remote control operation. His sales were rising rapidly, and then he displayed his creation at the Consumer Electronics Show where folks from Apple saw it. While Apple wanted to sell that product, they did not want to pay Mark. In order to get around a licensing fee, Apple got their friends at the Patent Trial and Appeal Board (PTAB) to kill his patent. They said it "would have been obvious" to combine an old-style deadbolt with – wait for it – a Swiss army knife! This type of insane reasoning jeopardizes every patent ever issued.
and his father Kent, who had worked in the door lock industry for nearly four decades, invented and patented the Remotizer® door lock system. One very unique feature is that the Remotizer converts any single cylinder deadbolt (key access on the outside) into a remote operated system. Mark first applied for his patent on December 4, 2004, and the U.S. Patent and Trademark Office (USPTO) issued his patent for a Universal Remote Deadbolt Adapter on December 20, 2008.
Along with receiving validation from the USPTO for an original invention, there were three independent testing laboratories (Mesa Engineering, Inc., Houston, TX; Timco Engineering, Inc., Tampa, FL; Technology Kitchen Corporation, Austin, TX) that validated the reliability and durability of the Remotizer Electronic Door Lock Keyless Entry System.
Product sales were moving briskly and, in 2013, Mark proudly displayed his creation at the Consumer Electronics Show. It was there that his innovation caught the attention of Apple Inc. It was clearly a product that Apple liked and around September, 2014, Mark's company, Mr. Butler LLC, approached Apple seeking approval to offer the application for their Remotizer online at the Apple App Store.
The timing could not have been better for Apple as the company was working on their Home Kit, an electronic framework permitting most all Apple devices to interact with numerous types of home automation products.
The response from Apple was, "We began review of the app but are not able to continue because we need the associated hardware to fully assess your app features." That seems harmless enough. Yet, requests for accompanying hardware is rarely required by Apple during their app reviews.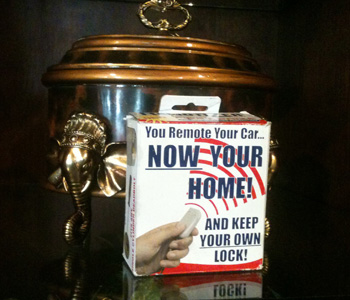 AROUND OCTOBER 2014
Apple began offering the August Smart Lock to tie into their Apple Home Kit. The August system infringed on Mark's patent and he filed a lawsuit against the world's largest tech company.
An Inter Partes Review (IPR – an attempt to invalidate a patent) was filed by Apple and August Home against Mark's small company. The PTAB granted the IPR despite the fact that there was a case pending with a U.S. District Court.
At the PTAB hearing an attorney for Apple was Matt Clements. Previously he had been an Administrative Patent Judge (APJ) at the PTAB and, while serving there, invalidated 144 patents. As well, he ruled in favor of multi-billion dollar conglomerate Apple in 96% of cases where they were involved.
Side note: The Clements example is truly a classic case of the revolving door corporate capture of our government that results in a gross miscarriage of justice that is crushing American innovation.
The PTAB ruled
that it "would have been obvious" to combine an old-style deadbolt with a Swiss army knife! A Swiss army knife? Who are they kidding?
Allowing this this type of "legal" reasoning to stand jeopardizes every patent ever issued.
When Mark filed for his patent he had complete faith in the system. After all, it had run fairly smoothly since our country was founded.
The USPTO employs many specialized Patent Examiners who have been highly trained in their areas of expertise. The assigned examiner to a patent application might spend a year or two, even up to a decade, before issuing a final patent to an inventor. And that patent provided a means of protection from infringers and thieves.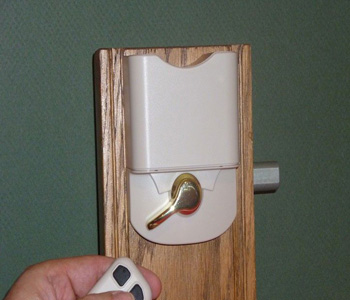 for Mark and thousands of other inventors, Congress passed the America Invents Act of 2011, which established the PTAB. Now the PTAB allows inexperienced APJs to invalidate patents – regardless of how long they have been in effect, nor how original and unique they were when they were discovered – at an alarming rate. They have overruled highly qualified Patent Examiners and invalidated 84% of the 3,000+ challenged patents they have reviewed.
Aside from incredible stress and financial loss he and his family sustained, Mark suffered a stroke in late 2019, which he attributes to the strain and anxiety of having to battle both Apple and the USPTO.
It is imperative, minimally, to make the PTAB voluntary for inventors.