As the supply chain debacle continued to loom with the Holiday Season fast approaching, on November 13, Fox & Friends Weekend showcased several American  business owners at Fox Square with their Made in America products.
One company that was interviewed during the Fox show segment was Loggerhead Tools, owned and operated by independent inventors Dan Brown Sr. and Jr. The specific product spotlighted was one that a show host declared would be "a great Christmas gift," the Bionic Wrench.
As Dan Jr. explained, "This is the magic of the wrench. When you squeeze the handle all six jaws come down and automatically find the right size. It doesn't matter if it is standard or metric, you basically just squeeze and turn.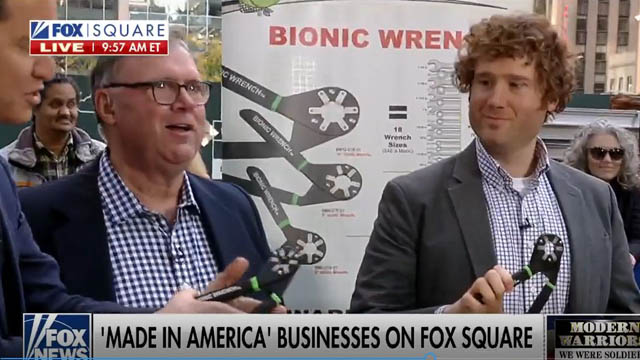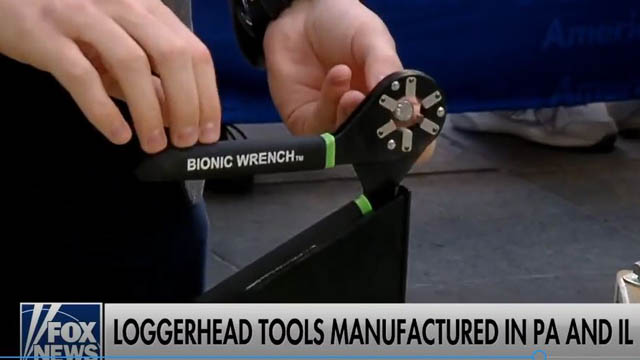 Dan Sr., who invented the Bionic Wrench and is a professor at Northwestern University, commented that the wrench was brought to market about 15 years ago and, while pointing at a display of 14 different size wrenches in front of him, said, "One wrench replaces all these wrenches. You don't have to guess the size."
When asked why it is so important to Buy American, Dan Jr. responded, "When you buy American it's creating jobs, it's creating economic opportunity. And we need to have a stronger US manufacturing base and it all starts with the consumer buying American made products." It was noted that Loggerhead Tools manufactures their products in Pennsylvania and Illinois.
Comments by show hosts included: "These are really cool, I want some of these;" "I really like that;" "American made is catching on;" and, as a host grabs a box and starts walking off, laughing, declared, "These'll be mine right now."
Watch the segment on Fox News, MSM or Facebook. Dan Brown Sr. and Jr. and the award-winning Bionic Wrench start at 3:07. Be sure to unmute the video.