Homo sapiens inventoris



Endangered Species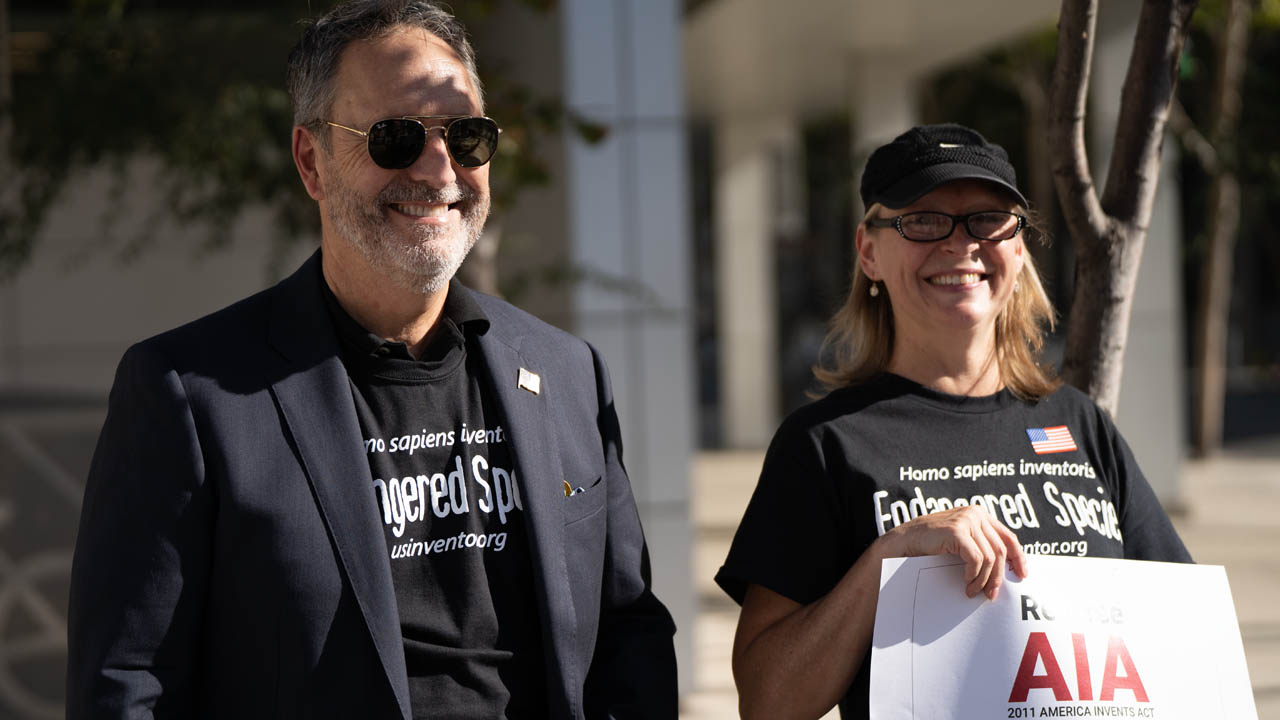 Marking the tenth year since the enactment of the America Invents Act (AIA), inventors and their supporters shined a spotlight on the AIA and its "Patent Death Squad" at events in six cities, including at the USPTO headquarters. The legislation has been a travesty that has all but ruined American innovation and has transferred untold economic benefits from the rightful independent inventors and innovative small businesses and startups to Big Tech and multinational corporations, including those controlled by the Chinese Communist Party (CCP). The large corporations get technology for free, and their small competitors are annihilated. Many who gathered proudly wore their US Inventor limited edition 'Homo sapiens inventoris Endangered Species' t-shirts at the events, as well as afterward.
Signed into law on September 16, 2011, the America Invents Act (AIA) created the Patent Trial and Appeal Board (PTAB) which is the worst event in U.S. patent history. The PTAB has invalidated (revoked) 84% of the 3,000+ patents they have reviewed, ruining the lives of countless inventors and shutting down numerous innovative small businesses and start-ups, in favor of Big Tech and multi-national corporations.
US Inventor was involved in six rallies on the 10th Anniversary of the AIA. The rallies were held September 16 at the main US Patent and Trademark Office (USPTO) in Alexandria, where Gen. Rob Spalding addressed inventors and their supporters, as well as the regional offices in Dallas, Denver, Detroit and San Jose, along with Burlington, Vermont, near Senator Leahy's office, who was the primary sponsor of the AIA.

"The internet giants campaigned to depress the value of patents by decreasing their reliability and making them easier to invalidate. They got their way with Congress in 2011 with a statute creating an administrative tribunal, where it would be easier to kill patents when they could not do so in the courts."